Katie Eleanor is a Yorkshire abstract artist known for her large scale mixed media paintings.
Her unconventional style of mixed media allow her to build up layers of texture and contrast into each of her pieces. Combining this with her passion for incorporating rich colour into her work has enabled her to develop a unique approach.
Katie enjoys creating abstract art for home and hospitality interiors. As well as producing new paintings to add to her collection, she works on large commissions for clients in the UK.
''There is something intriguing about the way the layers work together, revealing the hidden depths & texture within the painting, you get drawn in. My inspiration is drawn from abstract expressionism & process-based art."
Katie works directly with her clients as well as art consultants. She has most recently completed a commission for a new Wetherspoons pub and Hotel in Northallerton.
Creating abstract paintings through the intuitive process of continuous layering of paint forms is the basis of all of Katie's work.
The application of mixed media over time creates depth and texture from which her abstract paintings are formed.
All of Katie's work are hand-made originals, and one of a kind, created in her Yorkshire studio using hand stretched cotton canvas on wooden frames. Framing is available (and optional) on all pieces.
​
Each painting takes between two weeks to a month depending on the inspiration, idea and work load. Commission requests are currently available. Find out more by getting in touch. Or, browse and buy.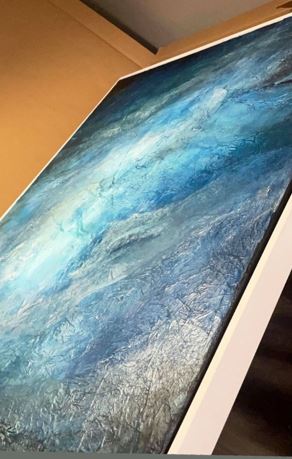 My work is my alter-ego: the part of me, which is hidden to most but, in the comfort of my art studio, has the freedom to express itself in bold, energetic and passionate ways where I'm never 'too much.'
Wetherspoons commission 2021